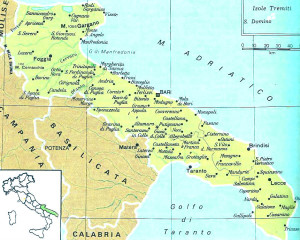 Welcome to Puglia!!!
This wonderful Region, which has always been a crossroads of civilizations and cultures, has always been considered a land of encounters and exchanges, a land where cultures, ethnic groups and languages mingle one another to originate what it is today, without a shadow of doubt, a heterogeneous, complex destination, readable and enjoyable in many different ways, a Region to fall in love with, for life.
Therefore what we are offering you is a charming journey within the pulsing heart of the Mediterranean area. A journey that will give you the opportunity to discover and appreciate with us, the many (different) realities of the "little continent" Puglia, as the art historian Cesare Brandi defined it; in one of his articles collected in a volume called Terre d'Italia (Lands of Italy) he wrote that "the most extraordinary thing of Puglia, is the fact that it is like a little continent, which has a structure and a history of its own, even though it is always connected, willy-nilly, to the Italian history".
And this charming "history of its own" – that developed itself through the centuries, thanks to all those people who arrived here, by land and by sea, wishing to conquer it – is what we want to share with you, in an exciting journey that will involve you with your heart, with your mind and with all your five senses!!! And all this thanks to the uniqueness of a recipe that employs only local ingredients : the beauty and the variety of our territory and of its coast, from Gargano to Salento, in all its expressions and colours; the luxuriant nature and our crystalline sea, "dipinto di blu" ("painted in blue"); our rich, very rich artistic and architectural heritage, clear evidence of our past; the spontaneity and the warm-heartedness of our people, always ready and available to welcome the traveller coming from far off; our traditions and our folklore, made of music, dances, ancient processions and historical parades which keep strong the bond with our past; our typical products, coming from ancient experiences that have evolved thanks to the most advanced techniques which characterise us and make us recognizable everywhere in the world. This is the recipe we have been lovingly sharing for years with those who chose us and trust in us.
Our purpose is to offer you not only a simple holiday, but a unique experience, which stays in your heart, enriched by the competences and the niceness of tourist professionals who, with their personal contribution, increase the number of those people who, regularly, cyclically, come back to Puglia.
Our team of tourist guides and tour directors, all in possession of official regional licence, boasts a deep knowledge of the region in all its aspects: history, traditions, territory, accommodation, local food and wine; another characterising element to our professionals is the immense love towards our own territory combined with a natural inclination towards all those who want to approach this land.
We make sure that the traveller, who comes to Puglia and trusts in us, falls in love with what he sees to such an extent that he starts thinking about returning here before his local experience is over!!!
We want to share our Puglia with you, are you ready to fall in love with it?